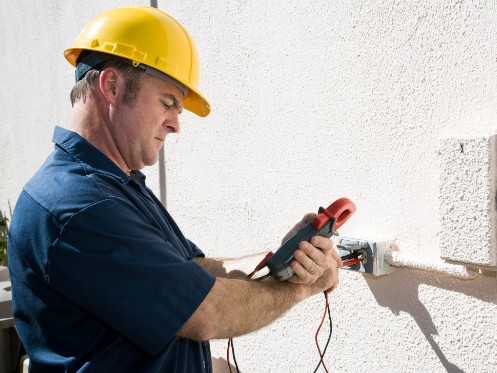 Your home's electrical switches are essential to using your lights and fixtures. Some switch types must be turned on or off at the wall switch, while others may be triggered remotely or are motion activated. Learning more about the different switches available can help you streamline your lighting setup. Here are the most popular electrical wall switches and where they work best in your home.
Toggle Switch or Single Pole
The classic toggle switch design protrudes prominently out of its panel. This type of switch is most common in older homes but is still valuable as a cost-efficient option. It's limited to turning on and off your lights and provides no additional benefits. These are best utilized in hallways, storage rooms and closets that require minimal lighting.
Double-Pole Light Switch
A double-pole switch is similar to a single-one, except it manages two separate circuits from one panel. These switches are great at dispersing the home's electrical burden, so you're at a lower risk of blowing the circuit breaker. You can easily find designs with rockers, the more modern electrical switch alternative to toggles.
Illuminated Switch
Consider opting for illuminated switches if you have children in the house. This convenient option has a light on the top that can help you find it in the dark. Some even come with backup batteries that can be helpful in a power outage. Unfortunately, the whole switch will need to be replaced if the light bulb burns out.
Motion Detector Switch
Motion detector switches have manual functions along with an added automatic detection feature. The built-in photodetector lens will react to any movement, turning the switch on. It's best to invest in a programmable option to limit how often pets or small children activate them.
Exceptional Electrical Services in Mebane
Mebane Electrical Services is a high-quality electrical service provider in Mebane, NC. Our experienced technicians can expertly repair your lighting, service your generator or install a new EV charging station. You can count on us to upgrade your electrical panel or add new residential outlets. Contact our team today to schedule your appointment.